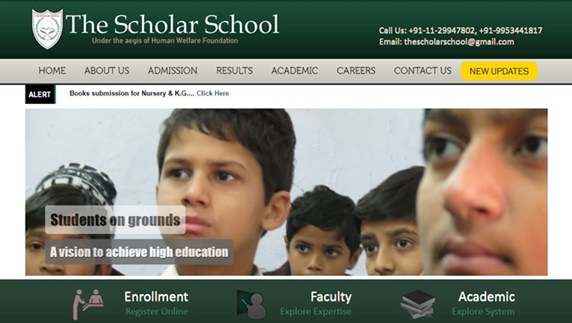 Importance of Website in Schools
Internet has become one of the largest platforms of communication. It is the most effective technology available today. Building a website for school can prove to be extremely beneficial if it is done in the right way. It maybe time consuming and include a lot of effort to be put in for developing a website for the school, but it is very advantageous for the school community. The school website gives the school's information and also clear idea about what they are good at. School websites will provide the up to dates, as well as help them to link between schools, their communities and also to the entire world.
Opportunities provided by a school website:
Parents become more aware about the schools functioning, and also feel involved. Through the websites parents can be easily informed about the upcoming events like activities, exams and also tips that could help children. Thus websites play a vital role in removing the barrier between parents and the school.
With the help of websites teacher's can share their views and ideas with the rest of the faculty as well as the parents.
Website makes it easier for the parents to give the school and the teachers their valuable feedback.
Parents get the opportunity to become well versed with the education system of their child.
The website provides a platform for the school to build contacts and link with business, families as well as other schools. Especially for families who relocate very often, these websites become great sources for them.
Moreover school can provide admission forms online with the help of website and also can declare result on the website for the ease of students and parents to see the result.
Few elements necessary for a school website:
Background of the school and other information like history and staff.
Basic contact details should always be mentioned in the website like, address, phone number, etc.
The website should contain all the day to day information or notice like upcoming inter and intra school events, holidays parent teacher's meeting, etc.
School websites should also avail blogs and forums to give an opportunity to have an interaction.
The necessary teaching aids, teaching materials, journals, lesson plan, and other education resources should be provided.
Photographs and write-ups about school, classroom, school trips, etc. should be put up.
Also suggestions to be given to parents, assisting them to help their children at home.
If you are looking for a website development for school then just contact C9 Software & Solutions Pvt Ltd for attractive, appealing, informative and interactive website. C9soft is experienced web development and web designing company in Delhi providing high quality web development at reasonable prices in committed time.